Adding a Spouse/Owner
In the Basic Plan, you can add a spouse by adding Spouse Income and/or Spouse Social Security from the Income tab. By clicking on the 3 menu, choose Add Spouse Information. See screenshot below:

The Spouse Information window will open which will allow a client to enter the appropriate information.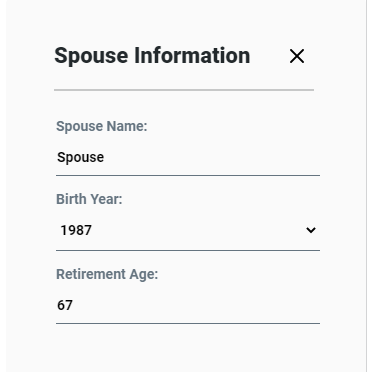 In the Unlimited Plan, OnTrajectory allows you to assign different owners for Income, Expense and Account Items. Each owner has a unique birth year, therefore, if you wish to include your spouse's salary, social security or retirement account, for example, you can do so without having to convert Start Age and End Age values (to be based on your birth year).
To designate a different owner for an item, select any cell of the row. The Item Settings window will appear: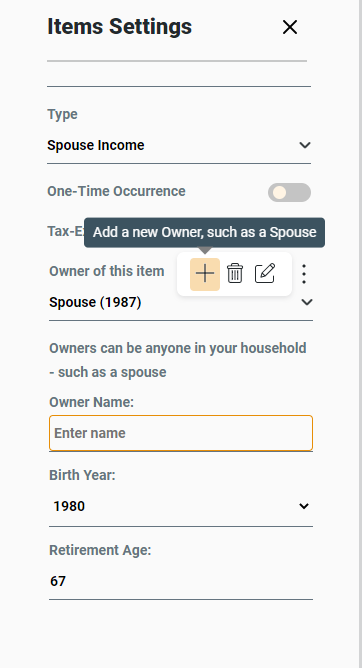 To 'Add'

or 'Edit'

a new owner, click the appropriate button and designate a Name, Birth Year and Retirement Age. Once a new owner is added, you can select them as owner for any other Income, Expense, or Account item by choosing them from the owner dropdown list.
Like the Retirement Age value found in the central settings bar (which applies to the 'main/default' owner), the Retirement Age field for additional owners is used wherever the 'R' variable is entered for that owner.
To 'Delete' an owner entirely from the system, click the 'trash-can'

button, and they will be removed from any Income, Expense or Account Item they were associated with. Ownership of those items will revert to the 'main' OnTrajectory user.